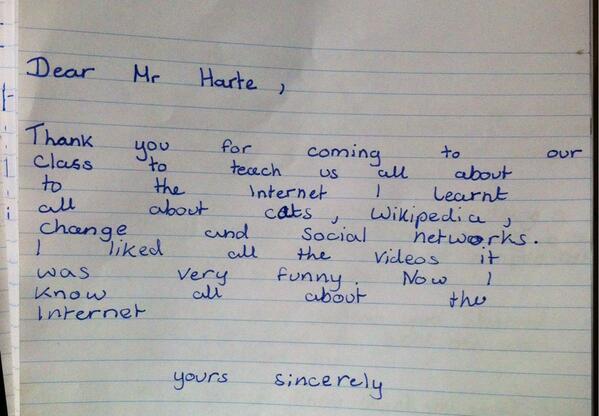 A couple of weeks ago I was invited by my daughter's teacher to do a talk about 'The Internet' to the year five group (30 x 10 year olds). They had been doing e-safety stuff and the teacher felt that although it's useful to know how to protect yourself online, it might also be worth knowing some good stuff as well. So, not realising I'm a cynical grump, she asked me.
Here's the truth upfront:
I HAVE NO IDEA HOW TO TALK TO CHILDREN ABOUT THE INTERNET.
That is, I am not pedagogically equipped to teach children of this age and lack a deep knowledge of the digital literacy agenda as it relates to ten year olds. All I could do was show them stuff they might like, that wasn't the rather scary e-safety stuff and was generally positive in tone.
I decided therefore to take the Seinfeld approach: "No learning, no hugging" (I actually began the talk by saying "you might think I'm going to show you stuff that will then build to a point where you will learn something – that probably won't happen.")
Although I stuck to the 'no hugging' rule I tried to slip in a bit of learning by first throwing in a vague 'the Internet is kinda like a load of connected computers' slide and later, telling them about another 10 year old, Martha Payne. 
The slides are below. Plenty of cats.
They all sat on the floor at the front of the class, were polite, asked questions, and all (30 of them) wrote me letters afterwards. They were awesome and so was their teacher.